Catalogue index : Larger Saxophone Ensembles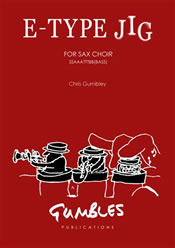 E-TYPE JIG
Chris Gumbley
Sax Choir SSAAATTBB + Opt. Bass
£17.00
Cat. No. GP401
MEDIUM
FORMAT Hard Copy
Instantly appealing and accessible, despite the challenge of alternating 5/8 and 4/4 meters, this lively, rhythmic, dance-like piece has the ability to really get an audience on your side! Ideal at the end of a programme. A real show-stopper.
Watch Chris Gumbley with Birmingham Conservatoire Saxes playing E-Type Jig at St Mary's Church in Stafford…
---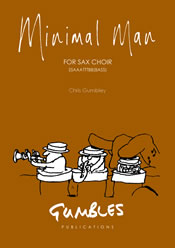 MINIMAL MAN
Chris Gumbley
Sax Choir SSAAATTBB + Opt. Bass
£22.00
Cat. No. GP402
MEDIUM-DIFFICULT
FORMAT pdf
As featured recently in concerts at RNCM and RCM under the batons of Andy Scott and Kyle Horch respectively, this funky, rhythmic and exhilarating, piece uses changing meters over jazz crossover harmonies to create maximum audience impact. Originally inspired by the NSC, and using one of the pieces from Tongue 'n' Groove as a starting point, it has an open improvised Tenor Solo in the middle. Challenging, but great fun when you get there!
'This jaunty, syncopated piece is well crafted and includes an improvisation sections for solos. A must for all sax ensembles seeking something cool and edgy.' Nigel Wood
'minimal man' is technical genius mate! fantastic stuff! every one was stunned by it!' Concert promoter