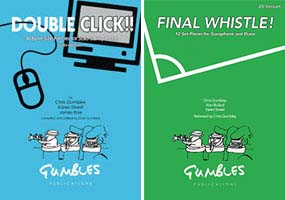 CORONAVIRUS: We are unaffected, so feel free to order in the usual way. Thanks.
Welcome to Gumbles Publications! SAX SOLO STUDIES, SAX QUARTETS/QUINTETS, SAX CHOIRS, PIANO MUSIC AND TRANSCRIPTIONS by Chris Gumbley, Karen Street, Alan Bullard, Gilad Atzmon, James Rae & Lennon/McCartney.
Here you can buy and listen to music for clarinet, sax and piano via Paypal or downloadable order form via our CATALOGUE page.These include our top-selling exam books, Double Click!! (sax or clarinet), 15 More Crazy Jazz Studies, Streetworks and Street Talk (piano).
BACKING TRACKS (Eb SAX ONLY) & CONCERT PITCH CHORD CHARTS (Eb OR Bb SAX) ARE AVAILABLE FOR EXAM PIECES in Double Click!! Sax and 15 Crazy Jazz Studies (see Catalogue page).