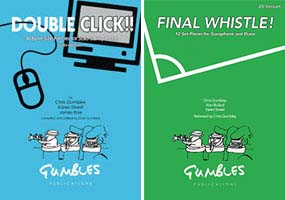 Hi there! Welcome to Gumbles Publications! Home of our top-selling exam books Double Click!! (sax or clarinet), 15 More Crazy Jazz Studies, Streetworks and Street Talk (piano).
As well as stocking solo books for saxophone and clarinet by Chris Gumbley, Karen Street, Alan Bullard, Gilad Atzmon, James Rae we also sell sax ensembles, piano music and transcriptions.
Here you can buy our music using a card or Paypal via our CATALOGUE page.
BACKING TRACKS (Eb SAX ONLY) & CHORD CHARTS (concert pitch for Eb OR Bb sax) for the exam pieces in Double Click!! (Sax) and 15 More Crazy Jazz Studies are also available (see Catalogue).
VIDEOS of all of our ABRSM & Trinity exam pieces have recently being added.