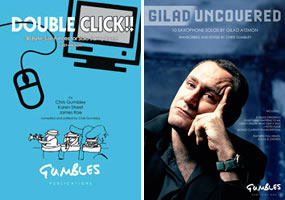 WELCOME TO GUMBLES PUBLICATIONS!
Home of the music of composer, saxophonist and pianist Chris Gumbley, where you can buy high quality sheet music by Chris, James Rae, Karen Street, Gilad Atzmon and Lennon and McCartney.
On this site, you can view sample scores, listen to audio samples, and use Paypal or downloadable order form to buy our music.
You can browse our catalogue, which features solo and ensemble music, much of which contains jazz and educational elements, for clarinet, saxophone and piano, including Tongue n Groove (sax & clari versions) and 15 More Crazy Jazz Studies, follow-ups to the top-selling Cool School and 15 Crazy Jazz Studies.
We hope you enjoy your visit to Gumbles Publications…
STOP PRESS: EXAM MUSIC NOW AVAILABLE TO BUY… DOUBLE CLICK!! 30 BYTE-SIZE PIECES FOR SOLO SAXOPHONE BY CHRIS GUMBLEY, JAMES RAE & KAREN STREET + 15 MORE CRAZY JAZZ STUDIES BY CHRIS GUMBLEY
NEW!!!….We now have pdf chord charts (concert pitch) for all our exam music. These can be obtained FREE on request by emailing us via the CONTACT page. For a list of our exam music, visit NEWS & EVENTS…
 You are listening to Minimal Man, available in solo (see Tongue n Groove) and extended full sax choir versions.