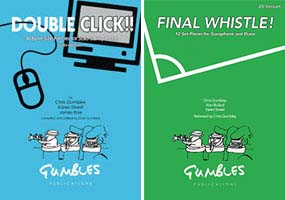 Welcome to Gumbles Publications – home of top-selling exam books Double
Click!!, 15 More Crazy Jazz Studies, Streetworks, Final Whistle! and Street Talk.
Head to our Catalogue page where you can buy our books and watch video performances of many of our titles. Backing tracks and chord charts are now
available for Double Click!! and 15 More Crazy Jazz Studies.
Meet all our musicians and composers on the Crew page as we celebrate our 10th anniversary.
Subscribe to our Youtube channel here.
Meanwhile, check out Young Jazz Musician of the Year Finalist Alex Clarke (below)
playing all four parts of our quirky sax quartet arrangement of the Beatles classic
Lady Madonna…