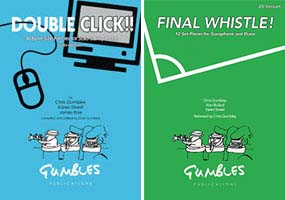 Welcome to Gumbles Publications! SAX SOLO STUDIES, SAX QUARTETS/QUINTETS, SAX CHOIRS, PIANO MUSIC AND TRANSCRIPTIONS by Chris Gumbley, Karen Street, Gilad Atzmon, James Rae & Lennon/McCartney.
Here you can buy and listen to music for clarinet, sax and piano via Paypal or downloadable order form via our CATALOGUE page.
CORONA VIRUS
Gumbles Publications has so far remained unaffected by the current situation, so feel free to order music in the normal way. Thanks.
To buy any of our exam books, including Streetworks, Double Click!! Sax and 15 More Crazy Jazz Studies, go to our CATALOGUE page.
BACKING TRACKS (Eb SAX ONLY) & CONCERT PITCH CHORD CHARTS (Eb OR Bb SAX) ARE NOW AVAILABLE FOR THE FOLLOWING EXAM BOOKS: