Gumbles Publications
Gumbles Publications was set up in 2011 by Chris Gumbley as a shop window for his writing and now incorporates a small selection of other prominent composers, including Gilad Atzmon, James Rae, Alan Bullard and Karen Street. We specialise in educational music for saxophone, clarinet and piano.
Chris Gumbley
Chris Gumbley studied clarinet, piano and composition at Huddersfield School of Music before pursuing a freelance career in music.
He started off doing various casual jobs. These were often jobs he was ill-equipped for, and included stacking the shelves at Kwik Save supermarket, labouring on a building site, and strawberry picking.
However, he was lucky enough to get offered a teaching post at Stoke-on-Trent College almost straight away, which he did for around 13 years, and a residency playing saxophone in a function band ironically called the New Sound, which he could only stand for two years.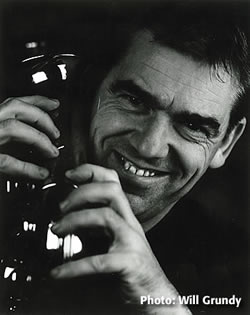 During that time he played professionally in many contexts, which included touring with The Temptations & Four Tops ('03 & '05), The Pasadena Roof Orchestra and The Charleston Chasers, as well as stints with Birmingham Contemporary Music Group, English Chamber Orchestra, BBC Big Band, Fat Chops, and the Berkley Salon Ensemble, as well as theatre work, classical recitals, courses and jazz gigs.
In 1993 he joined Saxtet, the Birmingham-based sax quintet, playing alongside Nigel Wood, Karen Street, Andy Tweed and Adrian Kelley. This led to the recording of the album Safer Sax and a new post teaching saxophone at Birmingham Conservatoire, which Chris held for the next 14 years.
Chris did a brief spell hosting the radio show, Jazzbeat, on BBC Radio Stoke, while his jazz club Gumbles, in Stafford, has been going since 1987, attracting leading players from Britain and overseas.
Chris is now an ABRSM examiner, which has made him into something of a globe-trotter. Recent examining tours have included trips to Canada, Borneo, China, New Zealand, Australia, Kenya, Tanzania, South Africa, Botswana, U.S.A, the Caribbean, Greece, Malta, Italy, Germany, Luxembourg and Portugal. He was an adjudicator at the Perth International Piano Competition (2019) and Young Musician of the Caribbean finals in Santo Domingo in January 2020.
Current playing projects include Tribute to Cannonball, working alongside Neil Yates (trumpet), his son Dan Nicholls (piano), Tom Hill (bass) and Carl Hemmingsley (drums), and Much Ado About Jazz – an exciting new show featuring pianist Al Gurr.
Writing
Chris studied composition with Richard Steinitz at Huddersfield School of Music and his composition Chorale and Variations for Saxophone Quartet was written for his final degree recital in 1979.
Following a dormant spell, he started writing again in the mid 1990s during his time with Saxtet. Since then, Boosey & Hawkes, Saxtet Publications, Spartan Press and Brasswind Publications have all published his music, much of which has found its way onto national exam syllabuses. Cool School and 15 Crazy Jazz Studies have been the most successful books so far.
Chris's writing is born out of a jazz mentality, which manifests itself in the seemingly unending desire to tamper with what's gone before. The music itself has a certain immediacy, with its keen melodic sense and quirky jazz-based rhythms and harmonic twists leading others to describe it as having strong 'muso appeal'.